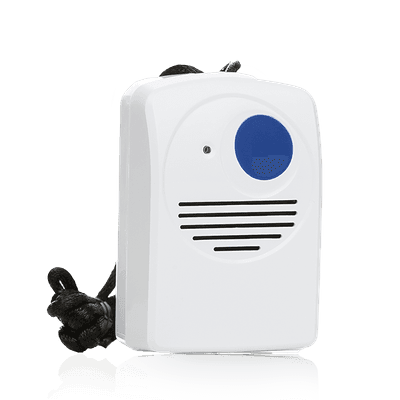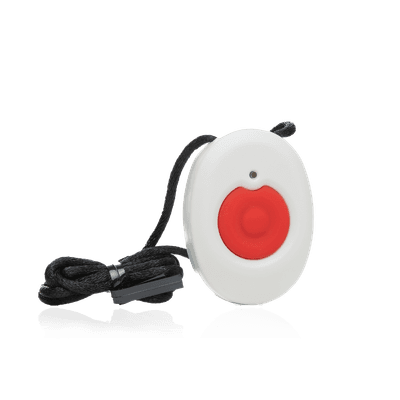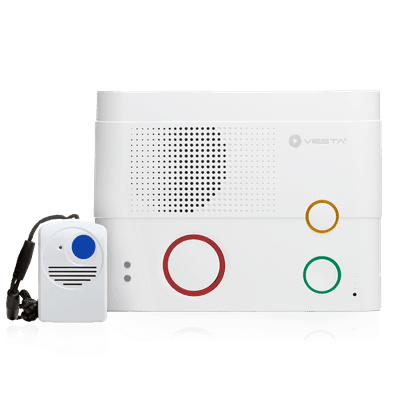 TalkSafe
Talking Personal Alarm Pendant

One-touch Personal Alarm

Links to a Trained Response Centre Operator with the Touch of a Button
TalkSafe with 24/7 Monitoring
The TalkSafe 24/7 Monitored Alarm uses digital cordless technology. With up to 150m range you can talk to our trained Response Centre Operatives from anywhere in the home and garden at just the touch of a button.
In the past, pendants have only let you trigger the alarm. All communication had to be done via the base unit. This is not very useful if you have fallen in the bedroom, bathroom, kitchen or garden, and the base unit is too far away - usually in the hallway downstairs.
The TalkSafe 24/7 Monitored Alarm lets you trigger the alarm and talk to someone via the pendant. This means that no matter where you are in your home or garden, you'll be able to speak to someone and there will be no delay in getting you help.
Our trained Response Centre Operatives are experienced when it comes to supporting people with limited mobility or conditions like diabetes, dementia, epilepsy and many more. They will talk calmly to your loved one, understand the situation and determine what is happening to get the right support. This could mean calling a family member, a friend, the emergency services or others. Where appropriate, they will stay on the phone until someone arrives, offering advice if it is needed.
Our UK based monitoring centres are open 24 hours a day, 7 days a week. This means someone is always available in case of an emergency, taking pressure off of friends and family.
A showerproof pendant is included to give you extra peace of mind when in the bathroom.
When your alarm is triggered and we are not able to speak to you, we will contact one of your nominated family members or someone that is able to check on you to make sure that you are OK. No call goes unanswered.
There is no need to charge the pendant, it comes with a battery that has a 5-year lifespan. If this is running out, we get an alert and will send out a new one free of charge.
The TalkSafe Personal Alarm is perfect for anyone who wants to live independently in their own home with peace of mind.
Following your initial payment for the TalkSafe personal alarm, the 24/7 Monitoring is paid for monthly. After you make your purchase, we will contact you to collect more details including nominated contacts, medical information and direct debit information. There is no minimum contract period and this can be cancelled at any time. As the equipment is leased, you should return it when you no longer require the service.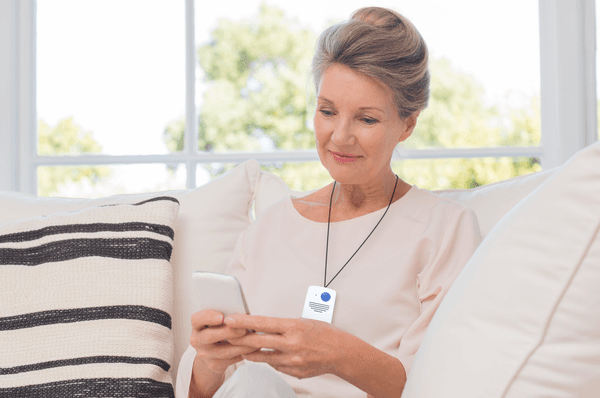 Help on hand when you need it
Our key product features are designed with you and your family in mind. Feel confident in knowing that your loved one has 24/7 access to the right support in the event of a sudden illness, a fall or any incident which may threaten their safety.

Features
Talking Personal Alarm Pendant

Whether you are in the home or out and about, we have talking pendant alarms that are able to connect you to either one of our trained Response Centre Operators, or your chosen contacts at any time of the day or night. Allowing you to carry on doing the things you love with the peace of mind help is never far away.

One-touch Personal Alarm

All of our personal alarms are designed to give you reassurance and let you live your life independently, safe in the knowledge that you can always get help at the touch of a button. Should you suddenly feel unwell, have a trip or fall, or any other type of emergency, get the help you need at the touch of a button.

Links to a Trained Response Centre Operator with the Touch of a Button

Our trained Response Centre Operatives are experienced when it comes to supporting people with limited mobility or conditions like diabetes, dementia, epilepsy and many more.

Help on Hand at all Times

Our UK based team are always on hand when you need help or reassurance. They can put you in touch with the help and support you need, that might mean calling a family member, an ambulance, the police, fire brigade or a range of other services. You never have to worry about 'bothering' us, we are always here and always happy to help.

Around the Clock Monitoring

Our 24/7 monitoring option means that there'll always be someone on hand any time of the day or night, to connect you to a loved one or the help you might need.

Helping People Stay in their Homes Longer

Our personal alarms help you maintain your independence. We're here to help when you need us. Should you have a fall, suddenly feel unwell or be concerned about any unwanted callers, you have our team on hand to get you the help you need. We can put you in touch with the emergency services, a loved one, friend or a neighbour and advise you on what to do until they arrive.

150m Pendant Range

A personal alarm with a 150m pendant range, suitable for use in the home or garden.

Easy to Set Up and Use

Easy to set up and ready to use straight out of the box.

Discreet and Lightweight

This personal alarm is small, discreet and lightweight. You won't even know you're wearing it.

Uses Landline

You will need a landline for this but you will not need a new telephone socket and it will not interfere with your phone.

Battery Back Up

The base unit has a battery back up in case of a power cut.
Specification
Stylish and Discreet

The TalkSafe with 24/7 Monitoring is lightweight, measuring 60 x 40 x 20mm, and weighs only 35 grams. At just one touch of the SOS button, you can talk to one of our Independent Living Specialists.

Long-range Pendant

This alarm has a range of up to 150m so it can be used in the home or garden. To use this personal alarm, you will need a landline but it will not interfere with your phone or the internet. You do not even need an extra phone socket.

Battery Alert

The TalkSafe 24/7 Connect comes with a base unit that plugs into the mains. This has a battery back up so if there is ever a power cut, you can be sure that it will keep working. If a power cut ever does happen, we will get an alert to let your nominated friends or family members know.

The pendant battery lasts for 5 years, then we will send you a replacement at no extra charge.


User Friendly

Easy to set up and ready to use straight out of the box. All you need is a landline.
Take a look at some of our great feedback
From start to finish, Suresafe have been marvellous not just in the transaction and advice process but as importantly in the After Sales service which has been nothing short of remarkable and compassionate. Without exception, all to whom I have spoken at Suresafe have provided kind and considerate care. As a carer of someone with dementia, I sought a very simple product that has since proved it's worth many times over. Great Company, great people. I now have peace of mind and thank them for all they have done.
Mr Darbyshire
7 months ago
Simply order online by answering a few questions about the type of cover you require and delivery was next day , very simple to set up .
Lilian
8 months ago
Brilliant service as always- Thank you SureSafe, you continue to give me peace of mind.
Anonymous
8 months ago
Related Products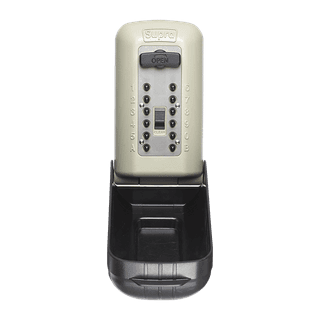 KeySafe from SureSafe
A safe way to store keys outside of your home that can give quick and easy access to friends, family and the emergency services in the event of an emergency.
View Details
KeySafe from SureSafe Installation Service
Have a professionally qualified engineer install and demonstrate your new key safe for you. The engineer can advise the best position for it, and even help you program your access code. Take the worry out of getting your key safe ready to use.
View Details