Personal Alarms that Call Friends or Family
Our friends and family monitoring option means that your alarm can call the people you chose whenever you need them. With no monthly fees, our personal alarms make sure that you can reach friends or family when you need help.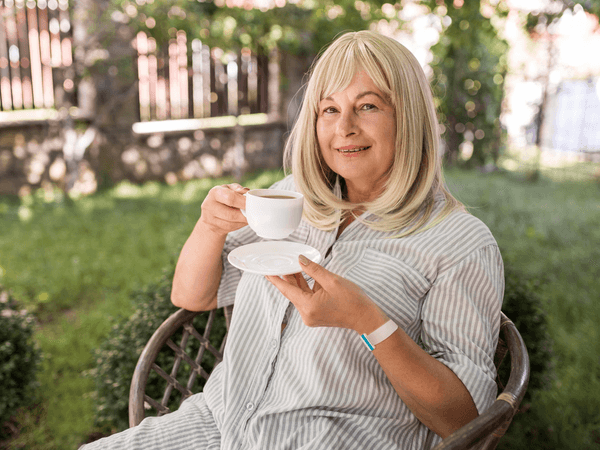 Can a personal alarm call my Family?
Yes, our friends and family monitoring option means that your alarm can call the people you chose when you need help. Our personal alarms make sure that you can reach friends or family 24 hours a day when you need help.

How do family monitored alarms work?
Your alarm will have a phone number that will show up when it calls for help. So your contacts will always know it's you calling. When you need help just press the call button or, if you fall, the fall detector will automatically call for help (where you choose an alarm with fall detection). In the event of an emergency, the alarm will text and/or call the three nominated contacts in order until somebody answers (depending on the type of alarm you choose).

The advanced technology we use in our personal alarms makes staying connected easier than ever.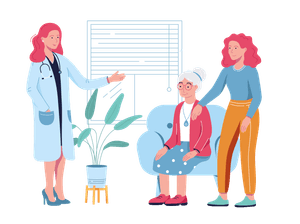 Which personal alarms are friends and family monitored?
We offer two alarms with the option of friends and family monitoring. The home-based SureSafe Personal Alarm and the go-anywhere SureSafeGO.

For those who like to get out and about, our alarm, the SureSafeGO uses GPS which means you can trigger the alarm wherever there is a reliable mobile network. We use a range of mobile networks to get the best coverage possible. Your alarm can be programmed with up to three numbers, keeping you connected with carers or loved ones.

There is no set up required and it is ready to use straight out of the box, all you need is pay-as-you-go credit available from us. As there is no response centre here, there are no monthly fees. Connecting to loved ones couldn't be easier.

For those looking after elderly relatives
One of the other benefits of our family monitored SureSafeGO alarm is that it comes with an optional Geo-Fence. For some customers with elderly relatives who wander, Geo-Fence is a great option. You are able to set it up to receive notifications when your relative is not in their normal location. And if you are worried you can text their personal alarm and it will send back their location. N.b the battery life of the alarm is reduced when the Geo-Fence feature is active.

For those who want to stay safe in their own home, we offer the SureSafe Personal Alarm which operates using your landline - without interfering with the existing telephone connection.
What types of Personal Alarms are available?
Designed for anybody who wants reassurance for themselves or a loved one, our alarms come with practical features such as automatic fall detection. This enables the device to be triggered even when you're not able to press the SOS button, making it a practical solution for those worried about falling and people with conditions such as diabetes, dementia or epilepsy.

Bathrooms are often the cause for concern when supporting a loved one to remain in their home and rightly so - the vast majority of slips and falls take place here. With this in mind, many of our products are either fully waterproof or shower-resistant, allowing you to continue with day-to-day life.
For those who like to get out and about, we offer a range of devices with GPS tracking. All of our alarms can be used in the home and garden practically with the SureSafe Personal Alarm offering a range of up to 50 metres, meaning there is little disruption to routine.

For extra reassurance, our 24/7 monitored service can link the wearer directly to one of our Independent Living Specialists. They can put you in touch with nominated family members or contact the emergency services. We'll even stay on the line and offer further advice until help arrives.
Our alarms offer the reassurance that you or your loved one will always be able to connect to a nominated friend, neighbour or family member day or night at the touch of a button.

Our alarms with friends and family monitoring options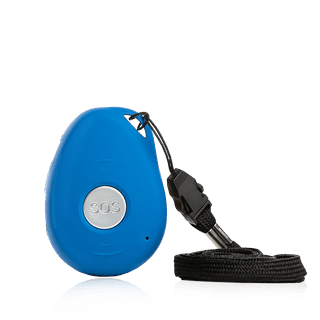 SureSafeGO
Mobile GPS tracker alarm. Be safe anywhere, either 24/7 Monitored or Family Monitored
Fully Mobile: Use at Home or on the Go

Automatic Fall Detection with a Fall Alarm

GPS Tracking
View Details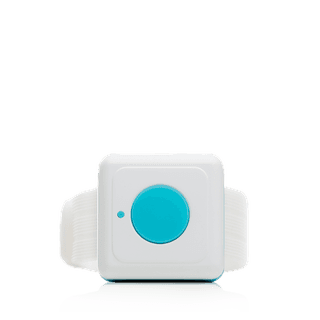 SureSafe Personal Alarm
Calls friends or family when triggered, with no monthly fees
Call Family and Friends with the Touch of a Button

One-touch Personal Alarm

No Monthly Fees
View Details
Other monitoring options
Our monitored alarms can still put you in touch with your loved ones, our trained UK based team are on call 24/7 to put get you the help you need as soon as possible.
Around the Clock Monitoring
Our 24/7 monitoring option means that there'll always be someone on hand any time of the day or night, to connect you to a loved one or the help you might need.
24/7 Monitoring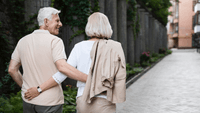 Staying Safe When Out and About
Our personal alarms give peace of mind that help will be on hand if you or a loved one should need it. For those who like to get 'out and about' we offer fully mobile personal alarms with GPS tracking. Our customers can be helped at the touch of a button even when they are away from home.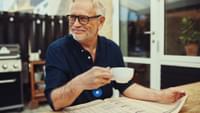 Helping People Stay in their Homes Longer
Our personal alarms help you maintain your independence. We're here to help when you need us. Should you have a fall, suddenly feel unwell or be concerned about any unwanted callers, you have our team on hand to get you the help you need. We can put you in touch with the emergency services, a loved one, friend or a neighbour and advise you on what to do until they arrive.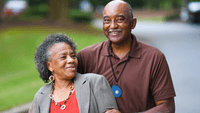 One-touch Personal Alarm
All of our personal alarms are designed to give you reassurance and let you live your life independently, safe in the knowledge that you can always get help at the touch of a button. Should you suddenly feel unwell, have a trip or fall, or any other type of emergency, get the help you need at the touch of a button.